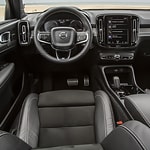 The Volvo XC40 R-Design is about as refined as you can get for an SUV. This popular performance vehicle does not disappoint in any way. We just know that you'll fall in love with the Volvo XC40 R-Design as soon as you get behind the wheel!
One of the first features you'll notice when stepping into the Volvo XC40 R-Design is the steering wheel with Nappa leather. In addition to its attractive design, the leather adds an elevated aesthetic that makes you feel good while driving.
It's common for people to have different preferences when it comes to room temperature in an office and at home. The same applies to a vehicle. That's the beauty of the Volvo XC40 R-Design. The Dual-Zone Electronic Climate System eliminates any issues when the driver wants a higher or lower temperature than the passenger.