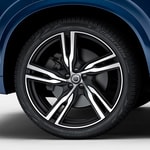 If you are in the market for a new SUV, the Volvo XC90 can be a great option. The XC90 continues to be well known for its style and reliability. However, it also has a variety of performance features that impress buyers.
One of the engine options for the XC90 is the turbocharged four-cylinder engine that will produce around 250 horsepower and 250 pound-feet of torque. Drivers with this engine option will receive a blended fuel efficiency rating of an EPA-estimated 27 MPG. The T8 hybrid option has two powerful electric motors that can produce around 400 horsepower and more than 470 pound-feet of torque, which is quite impressive compared to any other SUV in its class.
When you are in the market for a new SUV and are interested in the XC90, you should come to Volvo Cars of Dayton. Here, you can test drive the SUV and see the performance features for yourself.