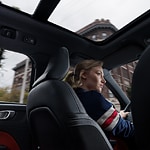 As a luxury subcompact SUV, the Volvo XC40 is quite popular. Why do so many people flock to the XC40? There are many reasons, including the comfortable interior and attractive exterior. Below are a couple of exterior features that enhance the appearance and functionality of this vehicle.
Panoramic Moonroof

The XC40's panoramic moonroof elevates its overall appearance. This is a feature that's both attractive and functional. It provides natural air conditioning and openness that drivers and passengers enjoy. The design of the panoramic moonroof reduces wind noise.

Tinted Rear Windows

? Having tinted rear windows is not just for aesthetic purposes. While this is a standard feature of the Volvo XC40 that certainly looks great, it also keeps the interior cool and reduces damage to the interior fabric.
Driving the Volvo XC40 is an experience you'll enjoy. The team here at Volvo Cars of Dayton invites you to our dealership for a test drive.