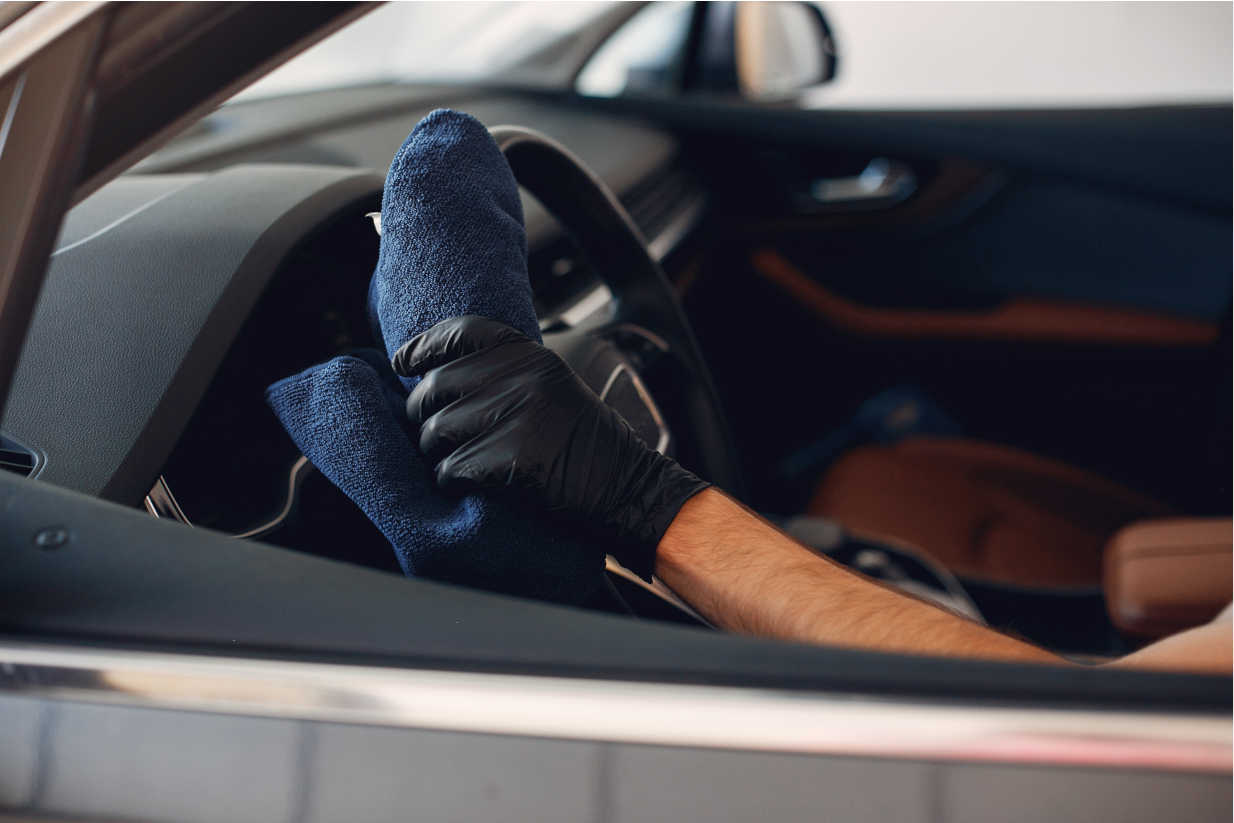 In just the last few weeks, the COVID-19 pandemic has begun to have an effect on everyone in Ohio. While testing and government action will be crucial to combat this crisis, there is also a lot that we can all do to help prevent the spread of COVID-19 in our community. The CDC and other government organizations have provided recommended actions. It is important that we take this illness seriously, and that we take action in our homes and businesses.
Below, we are going to look at some of the steps Volvo Cars Dayton is taking to keep our staff and customers safe. We also have received questions from owners about how to disinfect and clean their cars. So we have put together a list of tips for how to clean and disinfect your car for Coronavirus. Vehicles often have many different surfaces and materials in their interior, and Volvo owners want to make sure they can clean their interior without damaging the materials.
We should note that we are not health experts, and that there are many additional precautions recommended by the CDC to prevent the spread of COVID-19. However, we all spend a lot of time in our cars, and it is important to make sure that it is a clean environment for you and your loved ones. Be assured that Volvo Cars Dayton is taking all precautions to both disinfect customers' cars and maintain a sanitary workplace. We are proud to be part of the Dayton community, and want you to know we are taking this seriously. You can also count on us for clear communication, so please reach out with any questions or concerns.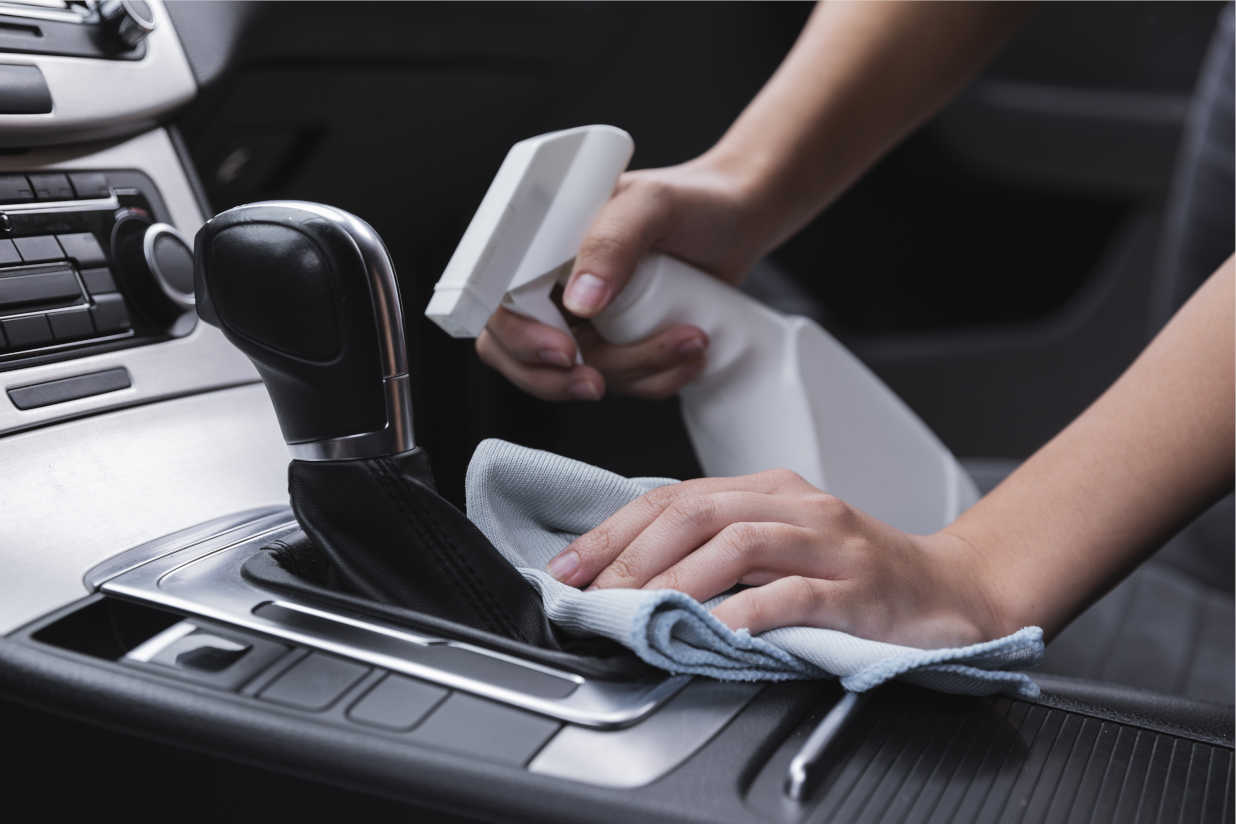 Choosing Materials to Clean Your Car Interior
The first step to cleaning and disinfecting your car interior is to choose the cleaning agents and materials you will use. Depending on whether you have leather, cloth, or imitation leather upholstery, steps and cleaning agents will differ.
Isopropyl alcohol is a proven disinfectant, and is also safe to use on most car interior surfaces. In fact, it is used in many production plants to put a final touch on interior components before they are shipped out. Isopropyl alcohol will remove many stains, smudges and residues, as well as kill bacteria and viruses. However, that stain removing quality can also cause problems with leather. 
If your Volvo or other vehicle has a leather interior, it probably has a thin protective coating to prevent discoloration. Isopropyl alcohol can deteriorate that coating and even remove the dye from the leather itself. We have instructions for cleaning leather surfaces below.
It is safe and easy to use isopropyl alcohol that is 70% or higher to wipe down hard surfaces in your vehicle. That includes steering wheel, dash, armrests, console, seat adjusters, shifter, cupholders, doors, handles, and more. Alcohol is also suitable for cleaning imitation leather interiors.
It is important to prioritize these "high touch" areas of your car when disinfecting. Things like the ventilation grilles and knobs, as well as the rearview mirror are all common touch points in a vehicle. All wiping and cleaning should be done with a microfiber cloth if you have one available. Not only do they do a great job of trapping dirt, but they also prevent scratches.
At Volvo Cars Dayton, we have established set protocols that we follow to make sure all of these high touch areas are disinfected in every vehicle. If you are cleaning your own car and want further information, don't hesitate to reach out. We are happy to help. You can also read the steps being taken by the Volvo Cars Dayton staff below.
For Cleaning Leather Interior
For leather steering wheels, seating, and trim, a combination of soap and water is a safe and sufficient way to clean them. Do not scrub hard when cleaning your leather interior, and avoid excess suds and water. Hand washing has been recommended as a primary way to protect oneself against infection by COVID-19. This is not only because soap can kill the virus, but also because the friction of washing contributes. This holds true for washing your leather interior as well.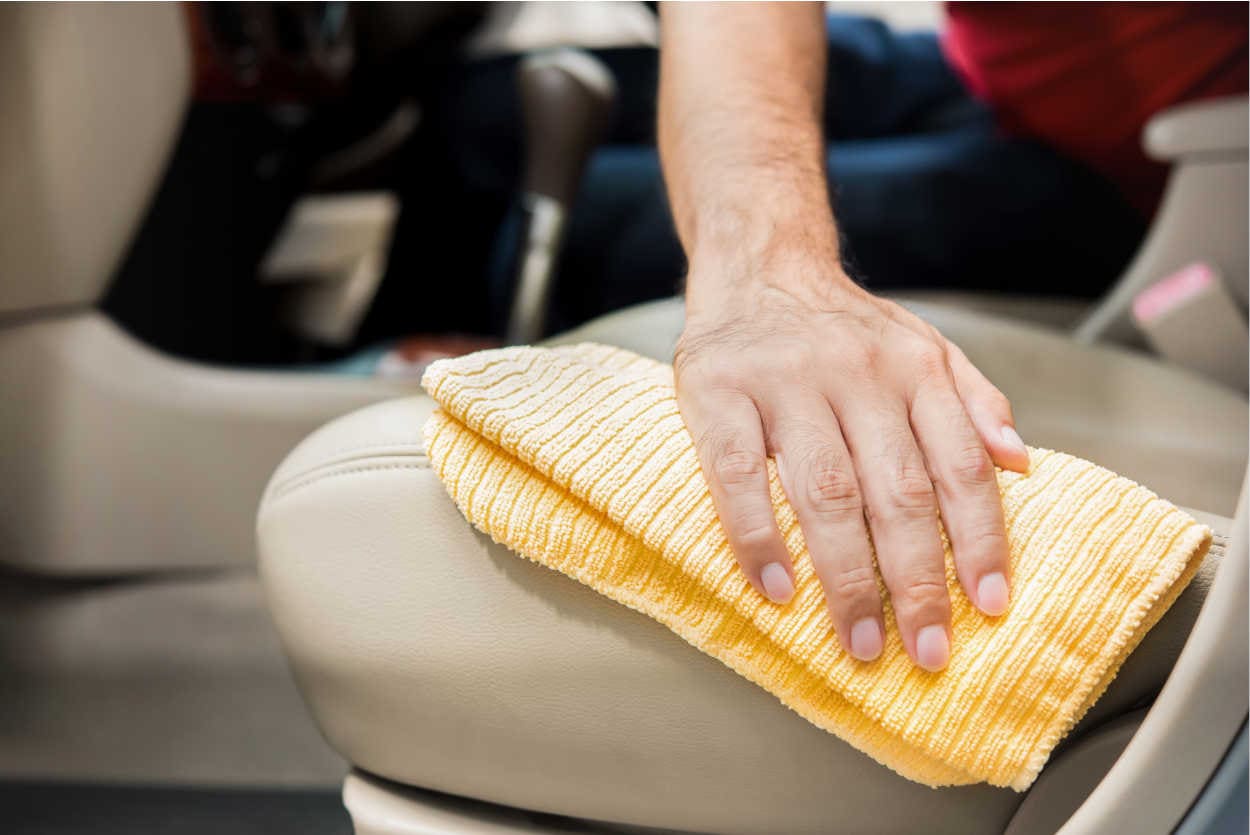 Steps for Cleaning & Disinfecting Car Interiors
While car interiors are built to be durable, hard scrubbing or using a rough cloth can cause scratches or even discoloration. A wipe with alcohol on hard surfaces and gentle circular cleaning on upholstery are the best bets for both cleaning and maintaining your car interior.
It is also very important not to use too much water on your seats. If cloth upholstery soaks through with water, it can get into the cushion beneath. This can cause the growth of mold and that musty smell you will recognize if you've left your car windows open in the rain.
If washing the seats of your car, it is best to wet a cloth or sponge with soap and water and wipe the seats. You do not want to leave excess soap or water, as it can take a long time to dry. Isopropyl alcohol can safely be used on non-leather seats, but it is not an ideal cleaning agent for those surfaces unless you have imitation leather.
If you are not sick, and haven't had anyone sick in your car, don't get too worried about doing this repeatedly. However, starting with a truly clean slate in your vehicle will certainly give you some peace of mind.
A common recommendation from experts is that once your car's interior is cleaned and disinfected, it is important to wash your hands before getting in from now on. This will help keep your car a clean place, and reduce the chance of a virus making it into your vehicle. The steering wheel is one of the dirtiest places in your car due to constant touching, and having clean hands will go a long way to keeping it in good condition after being disinfected.
If you believe you have had someone with COVID-19 in your vehicle, you should disinfect and call your doctor for next steps. They believe that the virus can survive in the air for up to three hours, and on surfaces for much longer, so it is best to be cautious if you believe your vehicle has been exposed.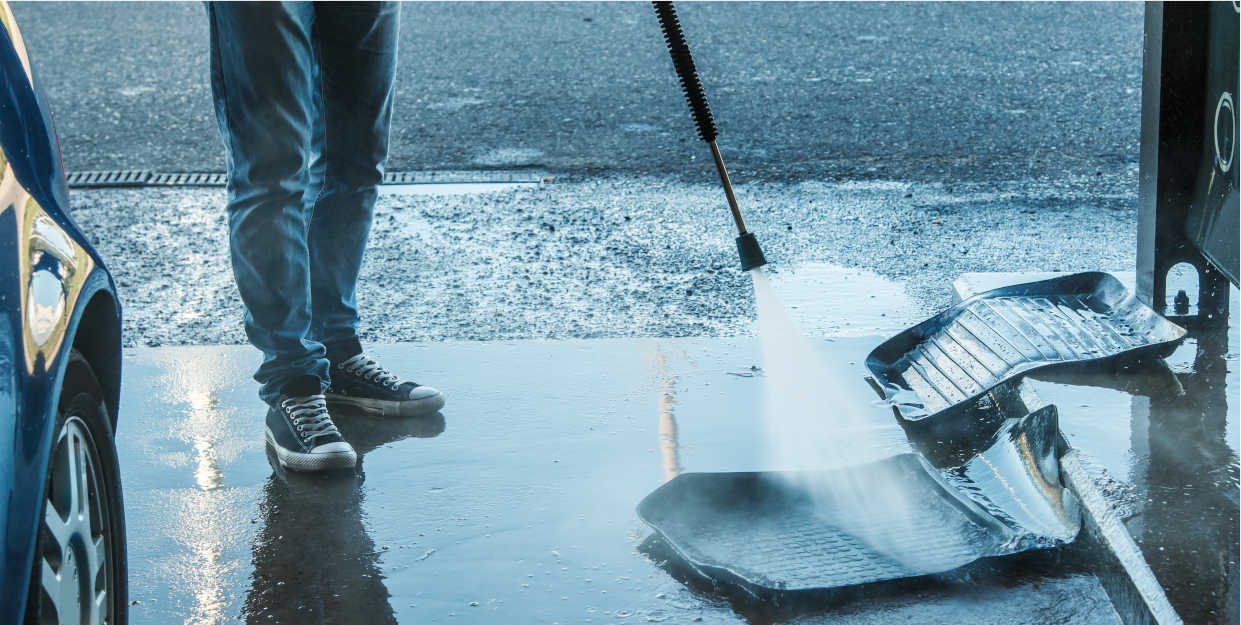 What We're Doing at Volvo Cars Dayton to Prevent COVID-19
You and your passengers come in contact with a lot of places in your car. So does anybody who works on it. At Volvo Cars Dayton, we have been taking several important steps to disinfect the cars we work on. We also offer convenient pickup and drop-off options for our customers' convenience.
Staff & Service Procedures
To avoid most contact with your vehicle, our service team wears gloves throughout their work. They also change gloves between each vehicle, to make sure that nothing transfers from one vehicle to another. Volvo Cars Dayton is also using special seat and steering wheel covers. So when working inside your vehicle, our staff does not come in contact with your seats.
All high touch areas in the car are disinfected before and after our service team conducts their work. We received guidance from experts on what parts of the car to prioritize when cleaning, to make sure that we are being as cautious as possible. From your keys to your doors and mirrors, we make sure that anything you will be touching is disinfected before you receive your vehicle.
Our employees are consistently washing and sanitizing their hands, and we have implemented a "no hand-shake" policy. We love our customers, and want you to feel safe and welcome in the dealership. You can still expect warm greetings and personal treatment, just know that we are taking actions with your safety in mind.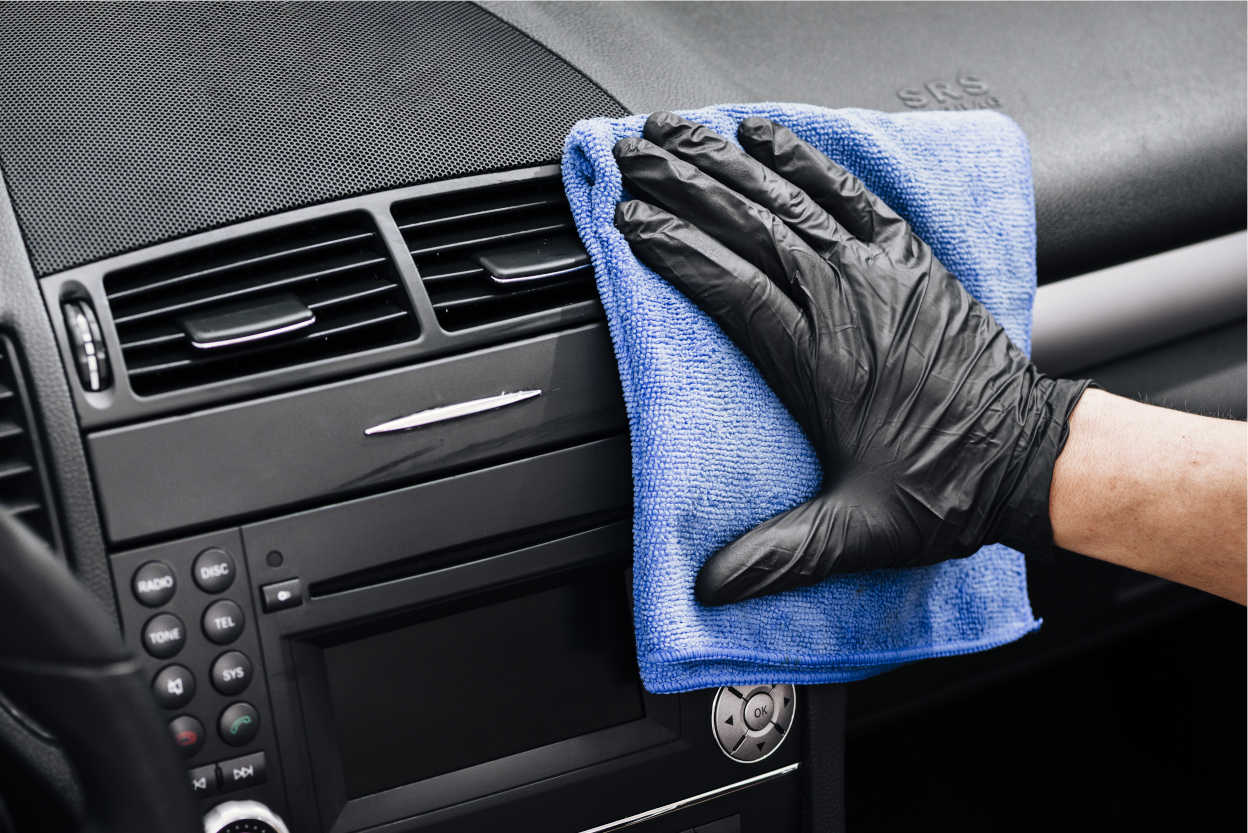 Sales & Customer Service
Outside of our service department, we have also implemented social distancing, and are offering services that eliminate person-to-person contact as much as possible. Want to test drive a Volvo or used car, but now are unsure about visiting the dealership? You can call or write to us, and we can arrange a drop off of your test drive. Most of our sales process can also be completed online or over the phone, limiting the time you spend in the dealership when buying your car.
We know that life is not "business as usual" for you during this time. That's why the staff at Volvo Cars Dayton is working to be flexible and meet the changing needs of our customers. Whether it is vehicle pickup and delivery, keeping a certain distance, or solo test drives, we are here to serve.
Our staff is always here to answer your questions, so don't hesitate to contact us with any questions or doubts about how COVID-19 is affecting your car buying or ownership experience. We are here to help in any way possible. We are ready to help you online, over the phone, or at the dealership.